Like it or not, o Dia dos Namorados está aí à porta. E como já é habitual, fiz um gift guide para vos ajudar a surpreender essa pessoa que vos enche as medidas. Para mim, qualquer dia é bom para celebrar o amor, mas há pessoas que precisam deste tipo de reminder para quebrar rotinas, parar e pensar no outro, fazer a tal surpresa que é sempre adiada e sacar um sorriso mais especial.
Se não quiserem gastar dinheiro, podem sempre fazer uns vouchers com crédito de beijinho, massagens ou tarefas que normalmente não gostam de fazer. :D E não se esqueçam que as palavras têm uma poder incrível. Juntem um cartão ao vosso presente (seja ele qual for) — é a cereja no topo do bolo.
LOVE MADE HER DO IT.
Design Letters Cup
Kiehl's Grooming Solutions
Matthew Walker, Why We Sleep: The New Science of Sleep and Dreams
Ohh Deer Greeting Card
YSL Y, Eau de Toilette
LCD Sound System, Electric Lady Sessions, LP
Reebok Classics Revenge Plus Vintage Sneakers
Morphy Richards Slow Cooker
TRX Trainer Suspension Basic
Nespresso Aerocino 4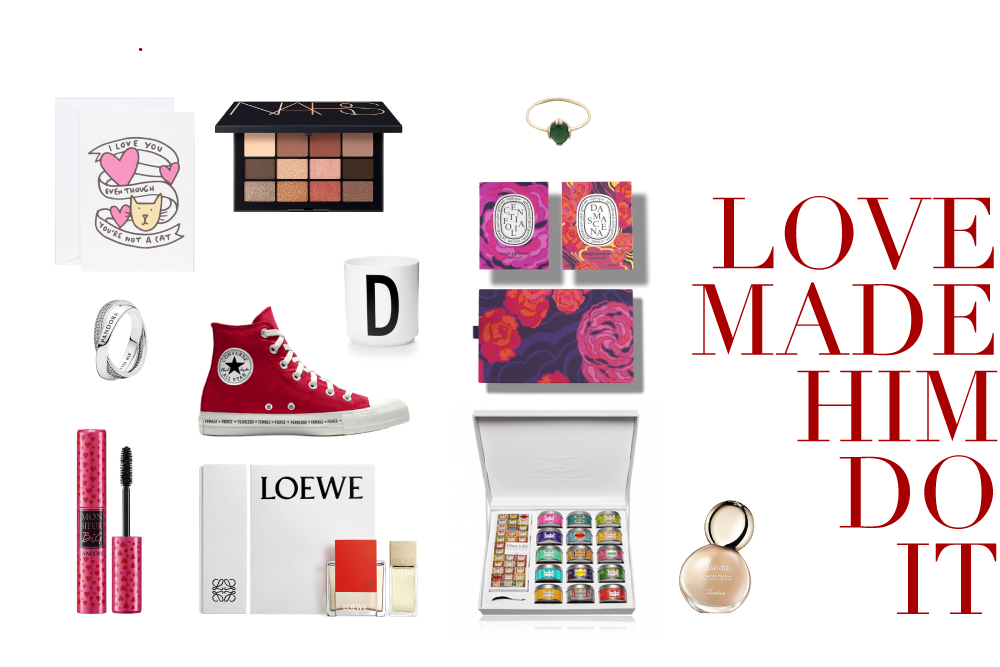 LOVE MADE HIM DO IT.
Design Letters Cup
Pandora Promise Ring
Nars Skin Deep Eye Palette
Kusmi La Collection
Loewe Solo Ella, Eau de Parfum Coffret
Converse Chuck Taylor All Star High Top
Lancôme Monsieur Big Mascara (no El Corte Inglés)
Monsieur Paris Orphée Ring
Diptyque Centifolia and Damascena Candle Set
Guerlain L'Essentiel Foundation
Veronica Dearly Card